You may thank me for the watch and fav! Your welcome!


But please don't use my channel to advertise yourself!!
Hello! Welcome to my account!






I'm Brightfire123 (or Firevampirecat)
But you can just call me Bright or Fire!
I enjoy drawing an animating,though i also do other things.
Currently i am working on a comic (Brightpaw's fate) and a game (The prophecy of time)
but i am also animating a series which will sadly only be worked on for the prologue and first episode.
I am quite open and enjoy speaking with others, so feel free to ask me anything.
My to-do list
Not started
Just started
Started but not very far
Half way through
Almost finished
Done but waiting to upload (for a certain reason like needs paying or other stuff)
Gone: Finished it XD

Not paid Commission

Paid commission

Free Requests

Art trades and Collabs

Others

My reminders of what i have to finish


Prophecy of time game
in game progress in the storyline it isn't very far...

Fateclans related


Next page for chapter 3

Other groups to do list


Currently none

Commission and free requests and others stuff for Friends


Currently none

Awaiting commissions from

(i tend to forget who i commission a lot XDD)
*
DarkAlyzer
*
Speckelpelt
~
umbreonxglaceon
=
Ymia-the-cheetah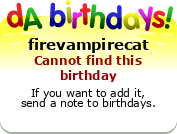 Get a FREE visitor map for your site!